Below is a listing of some of our poultry products. Check out our fresh and frozen varieties.
CHICKEN-FRESH CASE
Regular Chicken Breast
Chicken Parmesan  
BBQ Chicken Breast
Cajun
Garlic & Herb
Crushed Italian
Garlic Pepper
Sweet Bourbon
Lemon Pepper
Fajita
Butter & Garlic
Sweet & Sassy
Caribbean
Ranch
Mediterranean Chicken
Whole Fryers
Stuffed Chicken Breast *Variety of Flavors*
CHICKEN-FREEZER DOOR
Chicken Liver
Chicken Legs
Leg/Thigh
Boneless Thigh
Bone In Thigh
Cutlets
Cordon Bleu
Ground
Country Kabob
Wings
TURKEY
Smoked Turkey Breast
Ground Turkey
Fresh Turkey Breast
All Natural Fresh Turkey
Smoked Turkeys
Turkey Neck/Giblets
Tur-duc-en
DUCK
RABBIT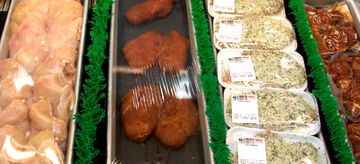 Visit Our Locations
Have questions, comments, or concerns? Contact us today!